Custom Logo Design Seattle
Business Branding Journey With
Logo Design Seattle
Businesses require a unique logo for branding in Seattle. With the Seattle Logo Design service, you can receive a tailor-made logo on the same day without any upfront payment. We offer multiple designs based on your business vision and allow you to choose the one that resonates most. Engage directly with our designers at a convenient time to make any revisions or adjustments. Once finalized, we provide the logo in high-resolution files in various formats, suitable for all branding needs, including websites, T-shirts, flyers, banners, postcards, social media, and more. Experience top-notch service from our creative designers at a budget-friendly price.
Award Winning

Design for Business Branding and Marketing
We are an award-winning graphic design agency in Seattle, Canada, but services we provide more than a graphic design agency as we can help you design, develop and revitalize your company's branding image at an affordable price within a minimum time. We ensure our services are effective and reap the benefits you want. We have an excellent, creative designer team who work diligently to deliver the best output.
Custom Logo Designer Near Seattle
In logo design in Seattle, we provide custom design and offer logo inspiration, creating graphic design and branding strategy to tailor your business to your target audience. We provide continued support, so your business achieves sufficient growth and maximizes profit.
Why Choose a

Custom Logo Designing Company?
Uncompromising values guide us! We always adopt systematic approaches to work. Our focus is to o help your company access design services that enable your company to get customers' engagement.
Creative team
We have award-winning creative team members with a decade of experience in graphic design and branding
Advanced technology
In logo design in Seattle, we use the latest and upgraded design tools to transform your business into a visual reality
Customer satisfaction
Customers are the locus point of all our activities. Keeping customers unhappy has never been in our dictionary.
Affordable budget and minimum time
We offer our services at a reasonable budget so that business owners of any type and clients from different backgrounds can collaborate with us for their new projects.
How does a logo in Seattle
process your logo Design project

?
We follow many procedures to complete your project
Conceptualization
We do research on your company and all factors involved with your project to generate a strategic concept
Creation
After working on paper and mind, we transform our design and branding activities into visual reality
Testing and refining
Once we develop many designs, we send our work to our clients to take feedback and brainstorm our design with our team members to select and modify the design.
Deliver
After testing and modifying, we deliver our final design to our clients when they are delighted with our work.
Get your custom logo in different formats at Affordable Price
After finishing all the custom logo design phases, our clients only need to choose the ideal format for their logo. Each format is tailored to a specific purpose. Please take a look at the formats highlighted here for a better understanding.
We provide the most famous logo formats, including Al, PDF, SVG, PNG, JPG, and PDF.
Which
Business Logo

Is the Most Effective?
Every company must take into account the colors, shapes, appeal, price, and how the overall logo design matches their brand in order to produce the ideal logo that perfectly conveys the soul of the company.
There are two basic categories of logos: descriptive logos and nondescriptive logos.
Nondescriptive logos are conceptual and frequently provide hints about the goods or services a business sells, while descriptive logos reflect the company name.
There are various logo styles as well. Even though each design is unique, not all styles are appropriate for all kinds of businesses or organizations.
The Psychology of
Custom Logo

Color, Font, and Shape in Marketing at
The colors, forms, and fonts we use in logo design for our clients' brand image are critical not just to making them recognized, but also to generating a sense of trust, authority, affordability, or even enthusiasm – whatever emotions the firm want to be associated with. We create a logo's typeface, color, and shape to subtly persuade prospective clients that we are the greatest option on the market.
The colors used by the organization will influence how people perceive a custom logo design. Colors can have an impact on how people perceive a logo, either positively or negatively. Different people interpret color tints differently.
A logo's purpose is to create an identity with which the target customers can identify. A poor font selection will result in major miscommunications. Font selection and formatting are crucial when creating a personalized logo. The font selected will influence people's perceptions of a company's professionalism.
Advanced graphic software can create one-of-a-kind typography. When creating a combo logo, make the firm name larger and more prominent. The company slogan can be written in a smaller font and possibly in a different typeface.
Custom LOGO

design in
Seattle
The Custom Logo Design Process: A Professional Logo Development Guide
A unique logo design process can be difficult to define because each graphic artist approaches logo development differently. But we're here to walk our clients through the overall logo creation process that our graphic designers use as a starting point. We'll show how to build an amazing logo design by combining research and analysis with creative ingenuity.
The first step in the logo design process is to establish what the brand represents and what the company's objectives are. The design brief should contain a lot of the information we'll need. However, there will always be clients who are unable to define their desires or are unaware of what they require, and it is the designer's responsibility to elicit this information. The next phase in the logo design process is to look into the logos of competitors and industry leaders. Then we'll sketch out a variety of logo concepts to see how they look outside of our heads. Once we've decided on a preferred concept for the logo, we'll attempt drawing several variations on it, adding or removing features, modifying small aspects, and starting typographic studies. Once we have a strong draft and the logo is finished, we can offer high-quality final files to our clients!
Top-Notch Branding in Seattle using our
custom logos
Building a good brand is essential for any organization. It's how new customers discover and choose to interact with a brand, and it's why loyal customers stay. Not only does the market evolve, but trends, social and political environments, and consumer needs all have an impact on how a brand evolves through time. So, after first brand strategy is complete, that's not the end of the story: even the most powerful brand identities must be renewed over time.
A logo can rapidly capture the attention of visitors in Seattle while also communicating a company's essential principles in an unusual way. Visionary Logo Designs brings together skilled developers and designers, digital strategists, and industry analysts to increase the stability and relevance of organizations.
Our clients will be assisted with-
Correct formats with multiple variations
A professional image
The best service even after the final delivery
An attractive return on investment
After finishing all of the custom logo design phases, our clients only need to choose the ideal format for their logo. Each format is tailored to a specific purpose. Please take a look at the formats highlighted here for a better understanding.
We provide the most popular logo formats, including Al, PDF, SVG, PNG, JPG, and PDF.
Our graphic designers are skilled in creating logos for moving company logo design. Moving companies require creative and unique logo designs to highlight the industry and its services. They must be detailed enough to look good on a large moving truck and distinctive enough to be visible on business cards.
There are many logo ideas to follow. Our logo makers have the skills to create an entire collection of logos. They range from vibrant to mute and can be 2D or 3D; they can be as detailed as you want. Most importantly, these ideas capture your brand's vision perfectly. Our logo designers think outside the box and give you high-resolution creative logo inspiration and designs you can print on business cards, pamphlets, and merchandise.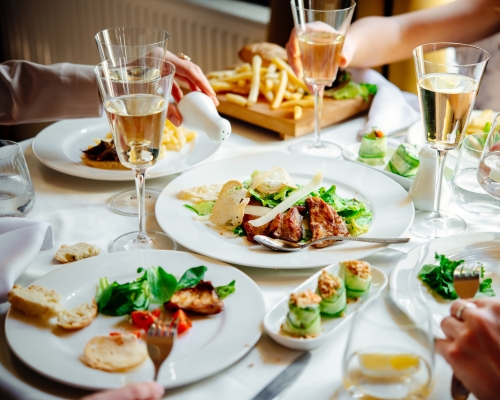 Each restaurant has a unique quality, and our custom designers are skilled enough to shed light on it. Restaurant logos must be elegant and inviting so customers are eager to try the food. The logo design must be distinct so that the restaurant is easily identifiable. If you need a logo design for a restaurant, logo design in Seattle will be your best graphic and logo design partner!
Daycares are for babies, but at the same time, they are for the parents and guardians; they will choose which daycare to send their children. It is vital that the logo for the daycare center look authentic and genuine enough for the parents and guardians to trust them with their children, but worry not; our logo graphic designers will skillfully design some for you!
Medical logos require certain sophistications due to the type of institutions they are for. Logos designed for the medical need to be trustworthy, with few vibrant colors to put people off. The professional designers we have will create customized logos for your hospitals and clinics that are cohesive and captivating.
Fitness logos require a lot of complex reds and blacks to execute the hard-hitting image. Our graphic designers have been part of the industry for a long time and understand the vibrancy and look required for fitness arenas and gyms that will persuade fitness lovers to join and invest their time in. So, If you are looking for a logo for a fitness center, logo design in Seattle will be the best solution.
Online shops need to have creative logos. This is because online shops don't have a physical existence; everything relies on how the customers perceive them, and a company's logo is the consumer's first introduction to the brand; therefore, it needs to capture all the brand's distinctive qualities fully portray them. If you want to provide a visual identity to your online shop, logo design in Seattle will be the best solution. We design unique and creative logos for online shops.